Concrete Floors
Polishing - Grinding - Sealing
Residential - Commercial - Industrial
Your Dedicated Polished Concrete Floor Expert

At Drytec Stone Restoration, we realize that choosing a polished concrete floor is one of the best decisions for your home or business. Whether you need a new polished finishing or wish to improve the look of an old slab, we are here for you.  As concrete polishing specialists in Perth, Australia, we deliver diverse decorative concrete mixes, sheen levels, and exposures for homes and businesses across Perth. Our experience, expertise, and vast knowledge of the newest technological processes are the reasons we can pledge outstanding services beyond your expectations.
What are polished concrete floors
Polished Concrete is concrete that has been processed through different mechanically ground "grinding/polishing" steps using professional equipment specifically made for concrete polishing. The final stage to achieve the truly "polished look" demands the use of a concrete densifier or hardener that penetrates the concrete, strengthening it, making it dustproof and scratch-resistant.
Your truly Polished Concrete floors are versatile interior finishes that can give your floors that elegant and attractive appearance. They shine like marble and can be dyed to match your décor. In reality, Polished or honed concrete is one of the end results that occur when concretes are processed. This means that there are three main categories of processes, including grinding, honing, and polishing. It is possible to stop the concrete process at any of these stages, according to the desired result.
Concrete polishing process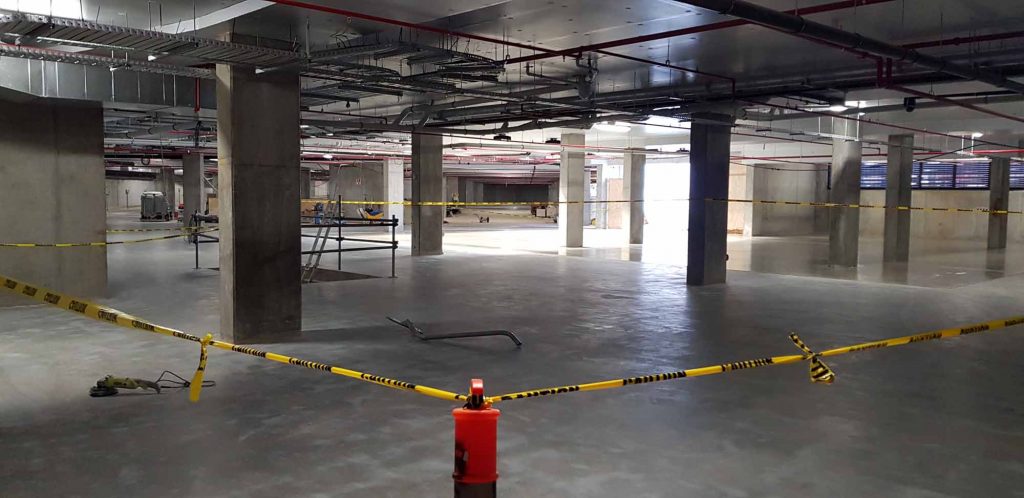 In reality, Polished concrete is one of the end results that occur when concretes are processed. This means that there are three main categories of processes, including concrete grinding, honing, and polishing. It is possible to stop the concrete process at any of these stages, according to the desired result. 
Concrete grinding is the lowest category and is done to slabs of concrete to give no or very slight reflection and low sheen. A grit abrasive of approximately 50-grit resin is used at this stage. At Drytec, we use a diamond floor grinding technique alongside dust controlling machines to efficiently remove all particles, and cover severe or deep scratches and unevenness in your concrete and reveal as much aggregates as needed.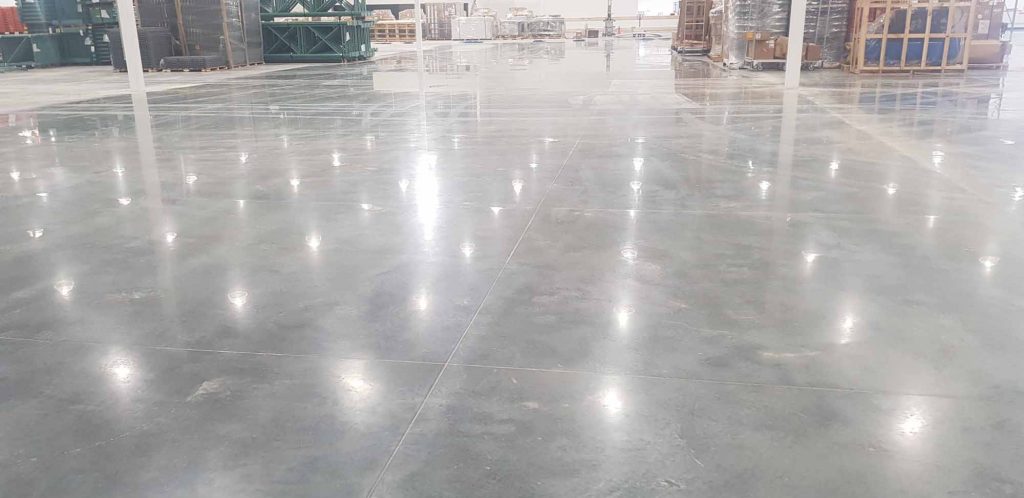 Concrete Honing is the next main category or step done after concrete grinding and uses about 100 to the 400-grit resin. The end goal is to have a concrete surface with slight clarity or matte outlook and can be made to deliver low medium or high sheen. 
Honed concrete floors are usually external floors around residential spaces or restaurants because they beautify the outdoor area while being practical and durable. They have a smooth, satin-like, velvety touch that is also resistant to slips, unlike washed concrete or pavers. Drytec uses high-quality honed concrete floors products and sealants to deliver a surface that is resistant to damage, erosion, or corrosion.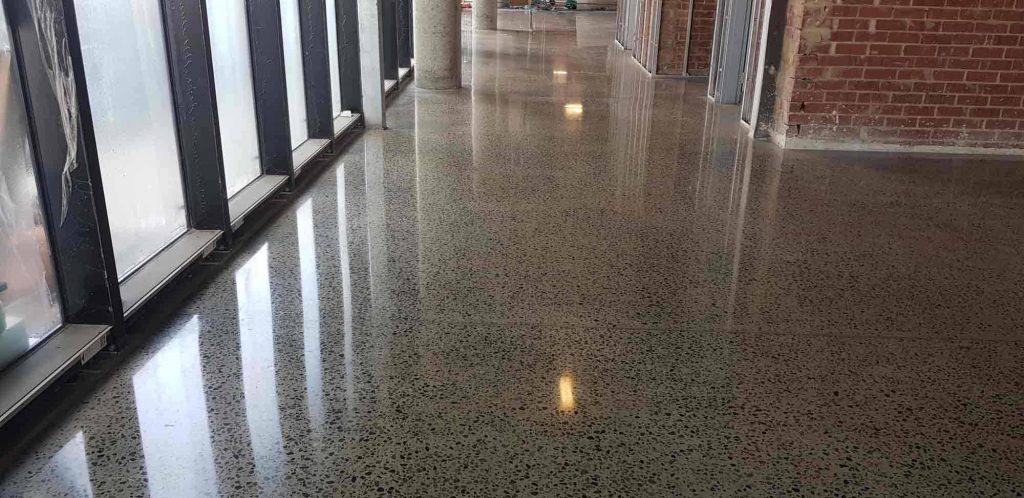 Concrete Polishing is the highest category of processing concrete. It demands approximately 800-grit resin to 1,500 or 3,000 grit to deliver a mirror-like clarity and high gloss finish. Our concrete polishing process is performed using an extremely fine graded abrasive diamond disk.
 machine running at different speeds to derive the perfectly polished appearance according to your taste.  Depending on your budget, Drytec can deliver the patented HiPERFLOOR polished concrete finish.  It's a perfect choice for residential or industrial spaces because it is durable and entirely slip and scratch-resistant.
BOOK YOUR OBLIGATION FREE QUOTE TODAY
Benefits of Polishing Concrete floors for your home

Your home deserves a floor finishing that is beautiful, waterproof, and long-lasting. Whether or not you have a modern home, honed concrete or polished concrete floors can not only give those benefits but also add value to your property. 
They also require no such thing as constant refinishing or extensive scrubbing.  They are also the preferred "green" installation for living spaces because they provide plenty of insulation and qualify for the LEED program.
Fortunately, most homes in Western Australia come with concrete floors. Therefore, your installation costs for concrete grinding are minimal. From bathroom honed concrete floors to your entire home, we are passionate about helping you design the best modern floors that differentiate your home from the crowd.
Benefits of Polished Concrete Floors for your business

Your commercial property needs a floor finishing that can handle the pressures of your daily activities while improving the aesthetics of your building.
Whether you wish to transform your office floors, storefront, or operations spaces, there are lots of attractive polished concrete mixes suitable for them. They are easy to clean, abrasion-resistant, and require no moisture treatment like many other finished floors.
Polished concrete floors or honed concrete are also easy to clean, durable, resistant to pressure, or heavy equipment and can last for a long time. This is one of the reasons they are fast becoming the most popular choice for apartments, homes, lofts, and even commercial properties.
Why Choose Drytec for your polished concrete finishes?

At Drytec, we are committed to delivering excellent concrete floor polishing, grinding, honing, and sealing services that are both timely and personalized to your budget.
We don't only work with concrete, but terrazzo, granite, and marble limestone travertine floors.
Our services span from flooring installations to regrouting and repair services.
Our goal is to help you boost the appeal of your floors without breaking the bank. In everything we do,
We treat our customers as a member of the family and strive to ensure that your satisfaction is guaranteed.